back to the overview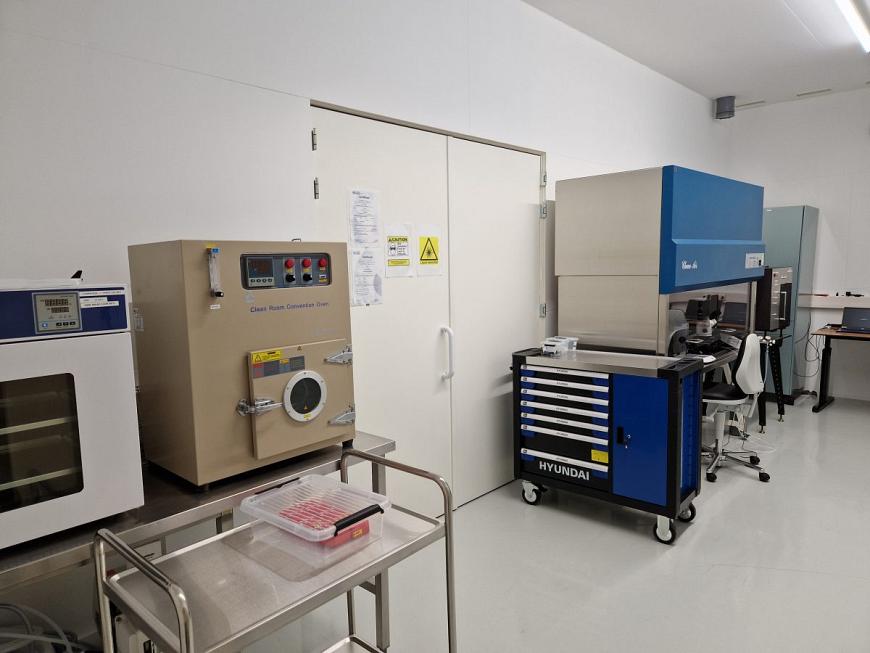 O what a year
As it turns out, it is a year back to the day that the website was updated. This was not because nothing happened, on the contrary. A lot has happened between the last post and this one.
After achieving full ESA qualification a number of significant orders for the BiSon64-ET-B have been received and we have been scaling up production considerably. This scaling up effort has run in parallel to a full redecoration of the office and upgrades of the cleanroom.
The Cleanroom now holds some additional items like a special cleanroom oven with integrated HEPA filter that has been programmed to automatically follow the optimised curing scheme for our glue. In addition we have a modified biohazard bench optimised for optimal cleaning and glue application. Furthermore, various small improvements were implemented like a cart with all necessary tooling and stainless steel transport carts. Even ESD safe chairs were acquired in preparation of further ESD measures required when we will start assembling the digital Sunsensors later this year.
Despite all off these improvements, the major improvement is related to the procurement of a nice digital microscope that allows to automatically take pictures in a repeatable way and with high resolution.
Although not visible on this photo, we have had a number of adapters produced, one of which allows to put the sensors in the same position using the available mounting interface.
This has largely improved upon the repeatability of documentation and uniformity of our End Item Data Packages that we provide to a majority of our customers. The automatic stitching capability also reduces the number of photos provided as we now can deliver a couple of high resolution stitched images instead of a number of partial photo's.
These are only a couple of the visible changes that have been implemented. During last year also the documentation and logistics have been cleaned up significantly in the sense that cross referencing documents and almost empty documents have been removed from the documentation system thus optimising the tailoring to the ESA requirements. This was done in order to improve transparency of documentation and to avoid duplication of information thus improving consistency. Next to this hundreds of parts were administratively removed from the logistics system. None of these parts were used anymore because the products they were used in are obsolete.
Does all of this mean we have completed our updates?
The answer to this question is "by no means"
We are currently in the process of obtaining an AS9100 qualification next to the ESA approval so as to allow our customers to formally tick their boxes.
In cooperation with de Haagse Hogeschool and de Leidse Instrumentmakersschool we have been working on a new calibration setup that is to become both smaller, faster and more maintenance friendly than the current setup. This development is expected to lead to a setup which is so small that two setups can be positioned at the place of our current setup with sufficient room to manoeuvre around both so both can be used at the same time.
A further ongoing development is a fibre based EGSE which can be used to determine correct polarity of the signals provided and can be made vacuum compatible.
Last but not least a major development is going on in frame of yet another ESA ARTES advanced technology contract. After several delays in relation to Corona and high work loading we finally finished the tape-out review of the APS+ chip. This chip is a dedicated development intended to produce the first radiation hardened full digital Sunsensor known to become available on the open market.
The IPS+ chip is a dedicated 2D imager, designed to be able to look directly into the Sun without saturating. This removes the need to provide the neutral density filter which is commonly used in CMOS imagers and increases the robustness against cosmic radiation. The chip is designed to be able to sustain >200kRad total Ionizing Dose (TID) and to be insensitive to latch up for energies below 65MeV. If everything works out, we will introduce a Cubesat version later this year which is quite similar to our current Cubesat Sunsensors MAUS.
As a matter of fact this is not coincidental as the housing for both sensors is mechanically exactly the same. The housing was developed as a testbed for the IPS+. It was realized quite fast that the low profile would allow to use the sensors on most Cubesats. As several potential customers had asked us to do something for Cubesats before, because the need for more reliable Sunsensors was increasing, we decided to introduce the MAUS as a precursor to the µIBIS (where IBIS stands for Intensity Based Image Sensor)
As tape-out of the chip is approved, we expect to have silicone in a couple of Months and expect to have first data by the end of 2023. Once we have confirmed data we will release the formal datasheet but until that time we can only provide some preliminary data. (info can be obtained by sending a message to info@lens-rnd.com our by using the contact form)
Long story short, a lot has happened, and a lot extra is expected to happen.
Stay tuned as it is the intention to update the website more frequently than the last year.